Lesen Sie die deutsche Beschreibung
Rubik´s Tangle Version 3 in original package for sale
" Easy To Learn, A Challenge To Win ... "
Author: Erno Rubik ~ Publishers: Rubik - Matchbox
Bid now... this fabulous Retro Rubik's Magic Strategy Game comes with original box & German instructions - all in excellent condition. When it came out, there were also 3 other sets (not included): Tangle 1,2 and 4. It was pretended that all together could form a legendary 'big tangle' with 10x10 tiles, but each single set is a complete game aswell.
This game is complete (Tangle #3) including the instructions.
The contents are in good condition, box is used. See the photos
The box has moderate edgewear plus some creases on the bottom.
I also sell an original Rubik´s-
Cube - Magic - Signed Master Cube - Clock - Babylon Tower - Link Puzzler and more!
GAME OBJECTIVES -Putting all tangles together
There are 24 possible configurations for each tile. Since it is a puzzle consisting of 25 tiles, that means that there are 2 identical tiles in the 25 tile lot, which therefore is true for each of the 4 tangles. So, technically, there are 4 solutions to each puzzle, where the two identical tiles are swapped between each of the 2 totally different solutions. Jim's solution is the "swapped" version of John's puzzle 4 #2 solution.
Also, when the puzzles were first released they were advertised as one huge 10x10 puzzle when all 4 tangles were put together. Unfortunately, the powers that be at Rubik headquarters made a mistake with tangle number 2 and made the "identical" tile the wrong one making the 10x10 solution impossible with 1 tile being out of sync. Here you can see the 10x10 "solution" for your frustrated enjoyment. The tile at the top right hand corner with the black border doesn't exist in the full collection but it was put there to make the solution look good.
The Rubik's Magic was invented by Erno Rubik, a Hungarian sculptor and professor of architecture with an interest in geometry and the study of 3D forms.
External links:
---
---
Rubik´s Tangle in original Verpackung zu verkaufen - Version 3
Author: Erno Rubik ~ Publishers: Rubik - Matchbox
In original Verpackung, so nirgends mehr zu bekommen - mit deutschem Manual.
Ich verkaufe auch noch Rubiks-
Zauberwürfel - Signierter Master Cube - Magic - Tangle - Clock - Link Puzzler und mehr!
Photos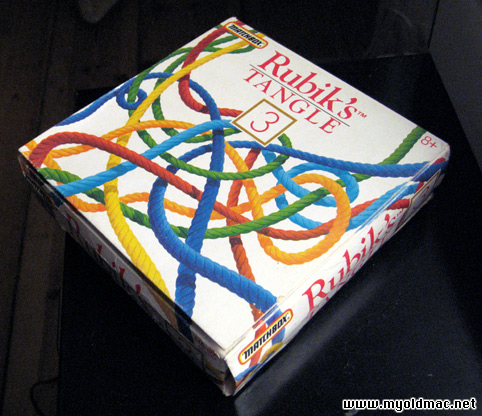 Erno Rubik´s Tangle (Version 3) in original package - German Edition
Erno Rubik´s Tangle (Version 3) in original Verpackung - Deutsche Ausgabe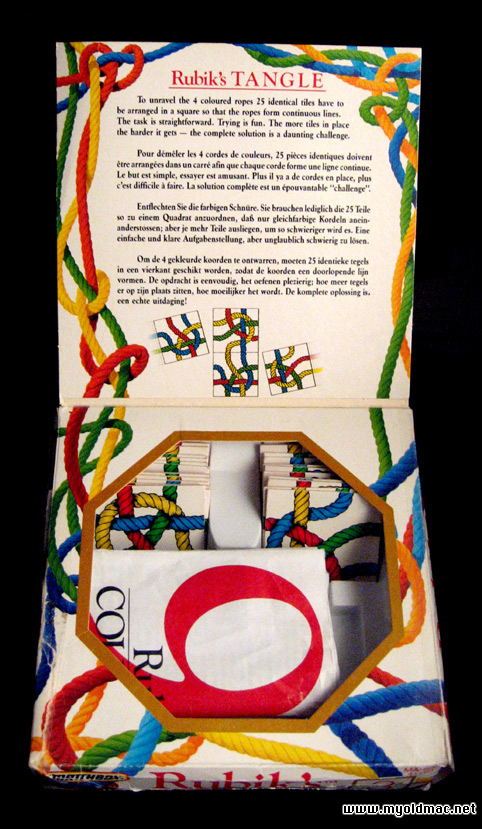 The complete Set Rubik Tangle 3 Game
Das komplette Set des Rubik Tangle Strategiespiels - mit Spielanleitung in der box