Lesen Sie die deutsche Beschreibung
Rubik´s Magic in original package for sale
" Easy To Learn, A Challenge To Win ... "
Author: Erno Rubik ~ Publishers: Rubik / Seven Towns Ltd - Matchbox, 1987
Bid now... on this fabulous Rubik's Magic Strategy Game comes with original box & German instructions - all in excellent condition. Download the Instructions for Rubik´s Magic Strategy Game here. This game is complete including the (German) instructions. The contents are in good condition. See the photos! The box has moderate edgewear plus some soft scratches on the box surface
I also sell an original Rubik´s:
Cube - Tangle - Signed Master Cube - Clock - Babylon Tower - Link Puzzler and more!
Rubiks Magic Strategy Game Objectives:
To win, you must complete either a vertical, horizontal or diagonal line with three of your pieces, all of them of the same background color. For example, three silver backed panels or three black backed panels, not a mixture of silver and black. If your opponent cannot break this three piece line in this next move you have won the game. It's harder than you think!"
The Rubik's Magic was invented in 1987 by Erno Rubik, a Hungarian sculptor and professor of architecture with an interest in geometry and the study of 3D forms.
---
---
Rubik´s Magic in original Verpackung zu verkaufen
Author: Erno Rubik ~ Publishers: Rubik / Seven Towns Ltd. - Matchbox, 1987
In original Verpackung, so nirgends mehr zu bekommen - mit deutschem Manual. Ich verkaufe auch einen original Rubik´s Cube aus den 1980ern! Hier aber nun das Rubiks Magic aka Rubiks Magik :
Rubik`s Magic Strategie Spiel ab 8 Jahren für 2 Spieler. Zu den Spielregeln: Ein Spieler wählt die Kreissymbole und der Andere die Quadrate. Sieger ist, wer zuerst mit seinen Steinen eine waagerechte, senkrechte oder diagonale Reihe von 3 Steinen mit gleichfarbigen Hintergrund bildet, ohne daß der Gegner im nächsten Zug diese Reihe durchbrechen kann. Es ist schwieriger als man glaubt..
Ich verkaufe auch noch Rubiks-
Zauberwürfel - Signierter Master Cube - Tangle - Clock - Link Puzzler und mehr!
Photos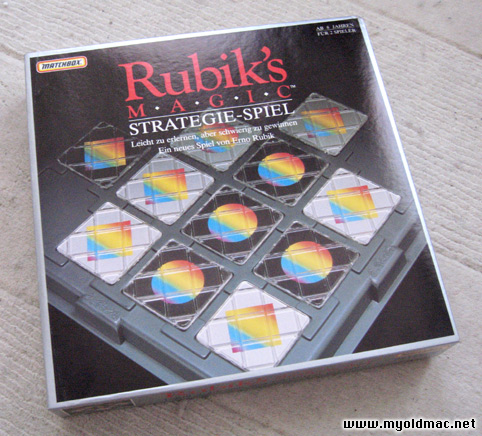 Erno Rubik´s Magic in original package - German Edition
Erno Rubik´s Magic in original Verpackung - Deutsche Ausgabe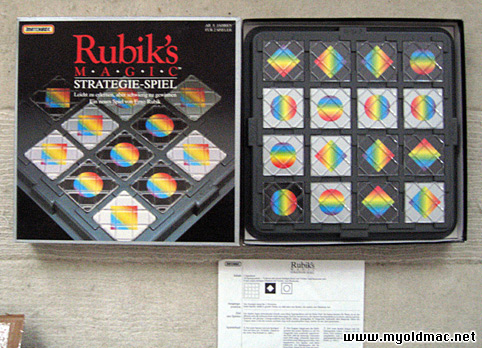 The complete Set des Rubik MAGIC - Strategy Game
Das komplette Set des Rubik MAGIC Strategiespiels - mit Spielanleitung