Lesen Sie die deutsche Beschreibung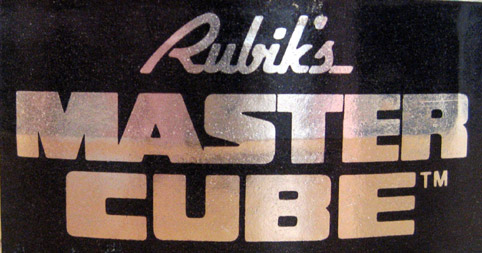 Original Rubik´s Master Revenge Cube, signed by Inventor
This is a rare chance to get an authentic 1981 Rubik's Ideal Master Cube 4x4x4 (not invented by Erno Rubik!) in its original, untouched box (Dutch version sold by Arxon), signed by the inventor - Peter Sebesteny. The name of Peter Sebesteny is only known to a small group of Rubik fans. He invented the 4x4x4-Cube - a limited release upgrade on the world's best selling puzzleRubiks Cube - in 1981 and owns the patent. The patent rights where sold to Ideal Toy Corp., USA, known as the producers of the original Rubiks Cube. The cube that is sold here comes directly from the hands of Peter Sebestény. See the US patent. An absolute must for the collection of any serious puzzle enthusiast.
7,401,196,841,564,901,869,874,093,974,498,574,336,000,000,000 Combinations
1 solution
The original, unopened box includes the signature of the inventor Peter Sebesteny on the box bottom. Don't miss this great opportunity to get these Rubik collectible! For securety reasons there is no photo of the signature here.
The cubes that are sold now where stored for 20 years in the basement of the inventor and there is the known problem with the original stickers. Some stickers start to lift from the cube, some are softly displaced, some have small air bubbles (mostly on the orange side - other colors are mostly in good condition) ). This happens because to the age of this cubes. You can still buy new stickers at rubik.com ! Please see the photos.
The Revenge Cube was manufactured in 1982. Ideal Toy sold the 4-er Cube under the trade mark "Rubik´s". A copy of the original inventors naming by Ideal Toy is added to the cube. Ideal Toy sold the 4-er Cube in the USA under the name "Rubik´s Revenge" and in Europa under "Rubik´s Master Cube". "Master Cube" is the earlier version made by Arxon. There is a sticker on the top of the plastic case shows ~ "Arxon". This is a very unique version of Rubik's cubes, the "Arxon" cubes are usually produced in very small amounts. So, it's much rare than other Ideal cubes.
This puzzle is a far more daunting challenge than the 3x3x3 cube. The number of pieces is far greater, and there are no "fixed" pieces to serve as a reference. This puzzle didn't sell very well, partly because the market was saturated by the 3x3x3 cubes (Ideal and others) and because many were so frustrated with the original cube that they wanted nothing to do with a more complex puzzle. Today the Master Cube by Ideal Toy is quite rare. If you really wanted to own something unique, don't miss this great opportunity.
This puzzle has an ingenious mechanism, with elements similar to both the 2x2x2 and 3x3x3 cubes. At the center is a sphere with three perpindicular grooves for the center tiles to slide in. A set of specially shaped blocks prevents the sphere from becoming misaligned with the rest of the cube. There are two edge pieces at each face intersection. The corner tiles are similar to their 3x3x3 counterparts. This gives a total number of permutations of 7,401,196,841,564,901,869,874,093,974,498,574,336,000,000,000 possible combinations.
I also sell an original Rubik´s
Cube - Magic - Tangle - Clock - Babylon Tower - Link Puzzler and more!
External links:
Rubik´s Master Revenge Cube original, mit Widmung des Erfinders
Dieser 4x4x4 "Masters Cube" aka "Rubiks Revenge" Zauberwürfel ist ein Original aus den 80ern, von Ideal Toy Corp. Der Würfel ist nagelneu und er wurde noch nie bespielt, die Verpackung wurde noch nie geöffnet. Der Master Cube ist eine Erfindung des ungarischen Mathematikers Peter Sebestény. Sein Name ist nur in einem kleinen Kreis in der Cubologie bekannt. Er hat den 4x4x4-Würfel im Jahr 1981 erfunden und als Patent angemeldet. Die Nutzungsrechte des Patentes, die für 20 Jahre Schutz gegen Nachahmung bieten, hat er an die Ideal Toy Corp., USA, verkauft. Ich habe direkten Kontakt zu Peter Sebestény und der Master Cube wird Ihnen aus seiner Hand geliefert.
Die Verpackung des Cubes wurde am Boden von Peter Sebestény persönlich signiert.
"Happy puzzling, Peter Sebestény"
Ideal Toy hat den 4-er Würfel "Master Cube" in Verbindung mit dem "Rubik´s" Trade Mark vermarktet. Der Name des Erfinders wurde nicht geheim gehalten, er wurde aber auch nicht ausdrücklich publiziert. Eine Kopie der Erfindernennung von Ideal Toy wird dem Würfel beigelegt (siehe Bild). Ideal Toy hat den 4x4x4-er Würfel in den USA unter "Rubik´s Revenge" und in Europa unter "Rubik´s Master Cube" vermarktet. Der Markt war aber bald mit den verschiedensten Puzzle-Varianten überschwemmt und so gesättigt, dass Ideal Toy nach 1-2 Jahren die Herstellung des 4-er Würfels eingestellt hat. Der Master Cube von Ideal Toy ist heute eine Rarität.
Die Master Cube Würfel, die jetzt verkaufen werden, lagen über 20 Jahre lang in dem Keller des Erfinders und alle haben mehr oder weniger Probleme damit, dass die Farbblättchen nicht mehr richtig kleben. Es gibt zwei Arten von Veränderungen bei der Art und Weise, wie die Farbblättchen kleben oder nicht kleben: die Bildung von Luftblasen oder dass die Farbblättchen sich am Rand lösen und sich halbkreisförmig nach oben biegen. Hiervon ist fast immer nur die orangenfarbige Seite betroffen, die anderen sind normalerweise in Ordnung. Der Würfel selbst und auch die Verpackung sind im einwandfreien Zustand. Der Kunststoff des Würfelkörpers ist von hoher Qualität und hält ewig. Der Verkäufer möchte Ihnen in jedem Fall eine Enttäuschung ersparen, deswegen diese explizite Warnung hier.
Externe Links:
Photos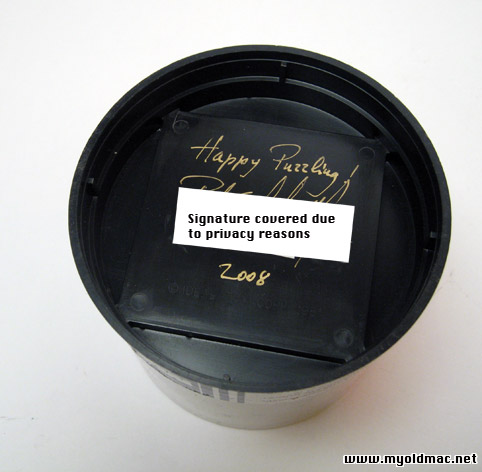 The box bottom signed by the inventor Peter Sebestenéy in 2008
Der Boxboden, signiert vom Erfinder Peter Sebestenéy 2008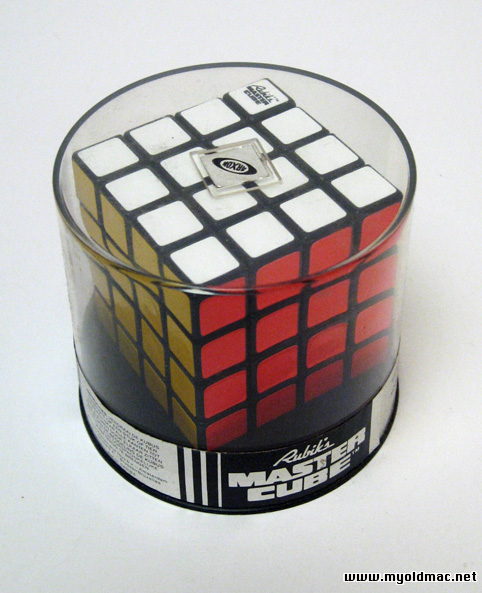 The box is unopened, the Master Cube unused.
Coming with a copy of the Patent paper dated January 21, 1982
Die OVP ist ungeöffnet, der Master Cube unbenutzt.
Kommt mit einer Kopie des Patents vom 21. Januar 1982